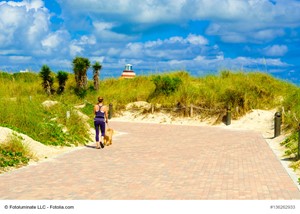 What's the first thing that comes to mind when you think about living in Florida? Everyone has a different perception of the Sunshine State, but there are a few common themes which are often bandied about when the topic of living, visiting, or vacationing in Florida comes up.
Florida's many golf courses -- 1,042, at last count -- is one of the reasons people are attracted to the area. It has more golf courses than any other state, with top destinations located in Naples, The Villages, Fort Myers, Sarasota, Orlando, West Palm Beach, Boca Raton, Jacksonville, Delray Beach, Bradenton, Bonita Springs, Vero Beach, and other cities around the state. If you like the idea of playing golf year round, you can't beat Florida for access to sunny weather and a wide selection of scenic golf courses -- some of which were designed by golf legends like Jack Nicklaus.
Living in Florida also affords you access to many other attractions -- not the least of which is the 600 miles or so of sandy beaches. Pretty much wherever you go in the state, you're just a short drive from the Atlantic Ocean. Some people are fortunate enough to live within walking distance. If you're thinking of buying a house in Florida (and your finances allow it), a beachfront property will provide you with unmatched luxury, beach access, and beautiful ocean vistas you can enjoy from your windows and front porch.
In addition to the availability of renowned Florida attractions, such as Walt Disney World, SeaWorld Orlando, Daytona International Speedway, Busch Gardens Tampa Bay, and NASA Kennedy Space Center, there's an abundance of other things to see, do, and experience. Whether you're vacationing in Florida or making it your permanent home, the opportunities for recreation and entertainment are almost unlimited.
Staying active as a Florida resident can run the gamut from bicycling, hiking, and rollerblading to swimming, boating, and fishing. If you don't own your own watercraft, there are plenty of boat tours, rentals, and sightseeing excursions offered in coastal areas -- many of which are reasonably priced.
A few words of advice: If Florida is your destination for either a year-round or seasonal home, it is absolutely essential to do some thorough research, weigh your options carefully, and choose a location based on your interests, budget, and climate preferences. If you plan to travel a lot or entertain out-of-state visitors, it would also be to your benefit to be near one of the major airports in the state.
Fortunately, there are about 20 primary, commercial service airports from which to choose. Many of Florida's major cities offer airport service, including Daytona Beach, Fort Lauderdale, Fort Myers, Gainesville, Jacksonville, Key West, Melbourne, Miami, Orlando/Sanford, Panama City Beach, Pensacola, Punta Gorda, Sarasota/Bradenton, St. Augustine, St. Petersburg/ Clearwater, Tallahassee, Tampa, Valparaiso, and West Palm Beach.
If living in Florida is on your "bucket list," one of the most valuable resources in your property search will be a knowledgeable real estate agent who can help you match your lifestyle goals and budget with desirable neighborhoods and homes in your preferred area.